Alcohol and Gaming Commission of Ontario (AGCO)
The Alcohol & Gaming Commission of Ontario (AGCO) is a provincial agency, established 23rd February 1998 under the Alcohol & Gaming Regulation & Public Protection Act, 1996. The Act gave the AGCO responsibility for the administration of the Liquor Licence Act and the Gaming Control Act, 1992. Complementary legislative amendments eliminated the Gaming Control Commission and the Liquor Licence Board of Ontario.
AGCO is now implementing a new Risk Base Approach in the Gaming sector based on a model that has successfully been operating on the liquor side for some years.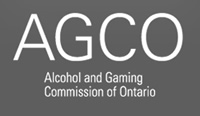 Contact the AGCO
AGCO – Head office
90 Sheppard Ave E, Suite 200
Toronto, ON M2N 0A4
Tel: 416-326-8700
Key Individuals
Mr. Jean Major
Chief Executive Officer (CEO)
Mr. Tom Mungham
Chief Operating Officer (COO)
Ms. Teresa Tedesco
Chief Administrative Officer (CAO)
Ms. Martha Otton
Chief Strategy Officer (CSO)
Ms. Jasmina Milanovich
Corporate Secretary and Director (SCM)