1723 –

AGCO – CEO Appointment

It has been announced by the AGCO Board of Directors that Dr. Karin Schnarr is appointed to lead the organization in the role of Chief Executive Officer, effective of the 18th of September 2023.

Dr. Schnarr has extensive experience in the academic, public sector and private sector environments. Hence, a wealth of experience is being brought into the organization as it evolves for the future. The AGCO is a broad-based organization covering multiple channels. Although some similarities, they are also quite different with different needs.

At the direction of our Chair & President – Mr. Tony Rosa, we have both written directly to Dr. Schnarr to congratulate, welcome and wish her every success as she undertakes this important role. Naturally, we have requested an opportunity to formally introduce the CGAO and the work we do, on behalf of our members, with the Charitable Gaming Sector.

1724 –

CGAO – Golf Day

After an absence of three (3) years our Golf Day returned on the 1st of June at the Springfield Golf & Country Club in Guelph. From all the feedback we received it was very enjoyable and all our golfers had a great day. It is always good when the weather co-operates and certainly the sun is out in full force.

This year's winning team went to the Bingoworld Group (Richmond Hill) who claim -12 score, also securing the longest drive and putting contest – a real scoop of prizes. Want to thank our guest teams who joined us, Team OCGA and Team OLG. It was great to see them through the day.

We will be back at it again next year – the first Thursday, 6th of June 2024.

1725 –

Annual General Meeting [AGM]

We held our Annual General Meeting [AGM] the last week of May in Toronto. We had broad representation from the Membership in attendance.

We were equally pleased to report that our Board of Directors was re-elected for a further term of office. Our Chair & President [Mr. Tony Rosa] and Vice Chair [Mr. Cam Johnstone] retained the confidence of the other Board Members and General Membership in being re-elected to those positions.

It must be borne in mind that both those positions are voluntary and I personally know the volume of work they both [TR & CJ] commit to the industry on all the Members behalf. They have never sought recognition or thanks but we do owe them both a huge debt of gratitude for what they have achieved.

Tony and Cam have framed our current objectives as 'Connectivity and Delivery' – in basic terms, how do we connect and then deliver in the various areas of the business. Their combined ability to take rather complex issues and present them in a fashion that is reachable and achievable has been a key to our overall success.

Our next General Members Meeting is scheduled for the 12th of September 2023 at the Holiday Inn (Airport East), Dixon Road, Toronto, Ontario.

1726 –

Players Heath & Wellness

We continue to evolve our partnership, engagement, and knowledge with the teams of the RG-C and OLG in delivering in our collective Playsmart objectives. As previously reported, we continue with our quarterly meetings where we discuss the issues/opportunities impacting the cGaming Sector.

Currently, we have two active pilots underway in the Greater Toronto Area and in both cases we are gaining traction and receiving positive engagement from the front-line teams. This, in my view, is a prime example of our partnership in action with OLG, RG-C and CGAO, working in common cause to increase awareness, knowledge and delivery.

Players Health is an important, if not critical piece, of the business that we are all becoming attuned to. Working with the OLG and RG-C make these initiatives much more of a team approach to finding the right solution.

1727 –

Joint Charitable Gaming Conference – 2023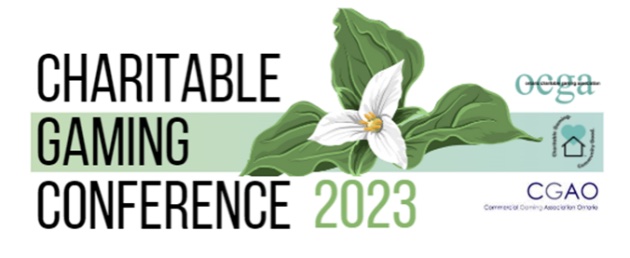 Mark Your Calendar : Charitable Gaming Conference – 2023 : New Location
The Commercial Gaming Association Ontario [CGAO] and Ontario Charitable Gaming Association [OCGA] are pleased to announce the dates of the 2023 Conference.
This is the only conference that focuses exclusively on the Charitable Gaming Industry in Ontario. It brings together Charitable Organizations, the Commercial Operators/Vendors and government bodies engaged in Charitable Gaming (both Provincial and Municipal) for two days of networking and informative sessions.
Last year's conference was a tremendous success, combined with strong support from our sponsors and delegates.
Conference Details:
Please mark your calendar. Details will follow shortly. If you have any immediate questions, please contact me direct at mcmahon.pli@sysmpatico.ca.

1728 –

Charity Gaming: Community Good

It is very encouraging that the Charity Gaming : Community Good Brand continues to be developed and expanded by the Team at the OCGA – led by Ms. Mary O'Neill and supported by Operations Director – Mr. Richard Schwar.

They are continuing to make headway with the development of numerous initiatives, mainly driven by the web platform that is the anchor or foundation piece that we will see additional elements built on and around.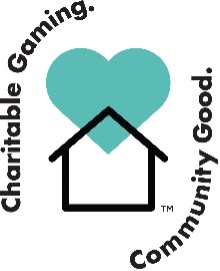 As always, Mary and the team are willing to undertake Joint Initiatives with Commercial Operators where the joint objectives are being achieved.
A prime example of a joint initiative is work Richard is undertaking/completed. Looking to adapt video-files so that they can be used within/on the venues Media System to promote and increase awareness of the Charities and the community projects that benefit from our platform.
If you have any suggestions, please reach out to Mary directly and discuss the opportunity to see if it is a fit.
One key element [but not the only one] of our initiative has been the number of active charity groups. The pandemic has re-shaped this landscape. All partners [OCGA : OLG : CGAO] are looking at how we reach and seek additional charity groups to join this program. If direct requests come through the venue mgt, please ensure it is passed on to the local Charity Co-ordinator.
It is equally important to mention that, as well as the number of active charities enrolled, the key element is the number of programs those groups support within their communities. The reach is far wider than is known and the impact is real.

1729 –

iBingo Announcement – Minister Downe

Back on Thursday, 22nd June at the Delta Gaming Centre (Barrie), the Minister [Attorney General] Doug Downey made an announcement on iBingo and how the Charitable Gaming Sector is an important piece in the broader gambling landscape in this province. The iBingo framework will ensure we keep our charities engaged as active partners in the business model and within Delta Gaming Group. They directly host 960 Charitable Organizations.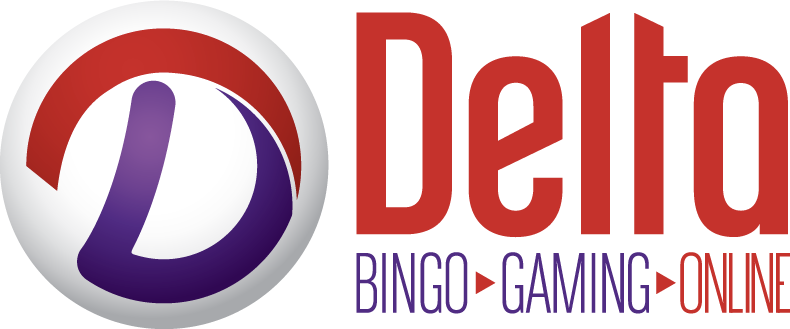 The initiative was driven by both the CGAO and OCGA who have an understanding of the need to provide an opportunity to link the Retail and Digital side of the business as a critical piece to our long-term sustainability.
Currently, the Delta Gaming & Digital Group, through its subsidiary Delta Bingo Online Inc., is the only platform operating, although we are aware others are in the late stage of development.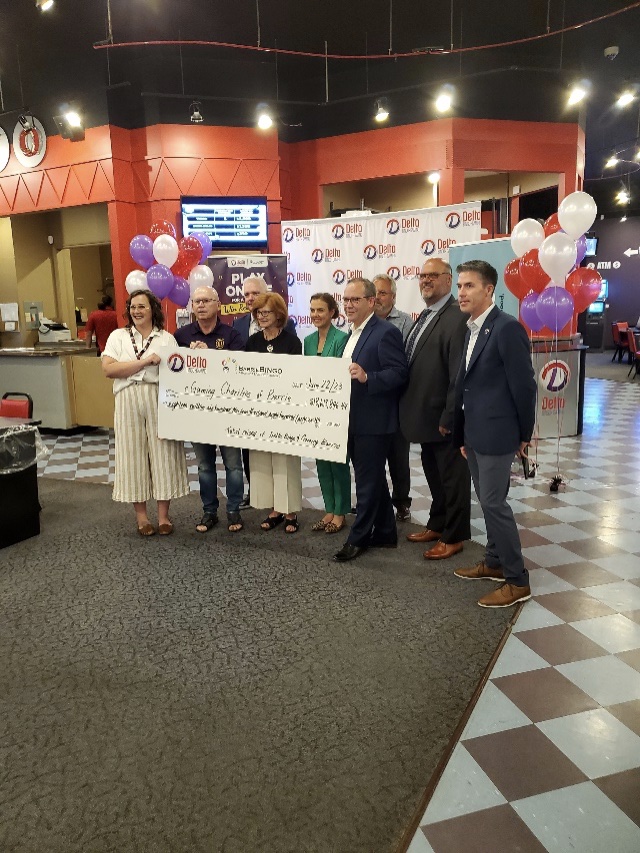 At the event the Minister presented a cheque for $C18.5m, [picture above], which represents all the funds raised since the venue engaged in the initiative.

1730 –

People on the Move

There have been various people on the move since our last newsletter. We have listed those changes below.
Ms. Joan Martin

- It has been announced that Ms. Joan Martin, OLG-cGaming team member, will be retiring on the 26th April 2023 after numerous years of service with the OLG. Joan is a highly respected member of the cGaming Team and will be missed. Joan goes with our best wishes on a long, happy, and enjoyable retirement.

Ms. Sheila Hill

- It has been announced by the Director (Operations), Ms. Valerie Braun, that Ms. Sheila Hill has been appointed to Senior Business Advisor cGaming, effective from the 20th of March 2023. Sheila takes over the region from Joan Martin from the 27th April. Sheila brings a vast amount of experience to her new role within various positions in the OLG since 2020. Shelia will report to Ms. Valerie Braun – Director.

Mr. Tom Mungham

- As announced earlier in the year by AGCO Board of Directors, Tom will retire from the organization after seeing it through some very critical issues, the Pandemic being one of them. We certainly wish Tom every success in the next phase of his journey.

Dr. Karin Schnarr

- Is appointed to the role of Chief Executive Officer (AGCO) as of the 18th of September 2023.

Mr. Peter ter Weeme

- It was announced that Peter has left his role as Chief Social Purpose Officer & VP External Relations at BCLC. We wish Peter every success in his next career step.

Mr. Lait Aggarwal

- It was announced that Lait would leave his role as Chair of Board (AGCO) to spend more time with family, We certainly wish to thank him for his leadership and engagement during his period as the chair and wish him and his family every success going forward.

Mr. Dave Forestell

- It was announced that Dave will replace Lait as the new Chair of the Board (AGCO). He has been on the Board for some years and more recently led the iGaming Board as Chair.

Ms. Heidi Reinhard

- It was announced that Ms. Reinhart will replace Dave Forestell as Chair of iGO with immediate effect.
We wish them all well as they undertake their new roles or next phases in their lives.

1731 –

Canadian Gaming Conference

The recent Canadian Gaming Conference, held in Toronto, was a platform to showcase the Canadian Gambling Sector. The conference was well attended and, as you expect, the iGaming and related services had a major talking point.

From cGaming, driven by CGAO, and strongly supported by the OCGA and OLG, we wanted to ensure that cGaming had a session and at a key time within the agenda. This focused on the unique partnership and performance of the cGaming initiative. The session was well attended and we have received some very positive feedback on the presentation

CONTACT DETAILS

P.McM-sn: 30-08-23