The Delta Gaming Group has continued the Group's celebration of its 50th year of continuing business and partnership to the communities they are located in.
Delta Bingo & Gaming recognized for its 50th Anniversary from the Parliament of Canada.
Oakville, Ontario: Earlier this week, John Oliver, MP for Oakville visited Delta Bingo & Gaming and presented Cam Johnstone, CEO at Delta Bingo & Gaming with a certificate of recognition on celebrating 50 years of hard work, fun and philanthropic donations. "Delta's contributions and commitment to numerous charitable organizations has been integral to our Oakville community" added John Oliver. John also presented Cam with a certificate of recognition from The Rt. Hon. Justin Trudeau, Prime Minister of Canada.
This year has been special for Delta Bingo & Gaming as they celebrate their 50th anniversary. "We are proud to look at our past and what we have accomplished as a family and can't wait to see what's in store for the next 50 years. Thank you to our staff, customers, charities and all partners." said Mr. Johnstone.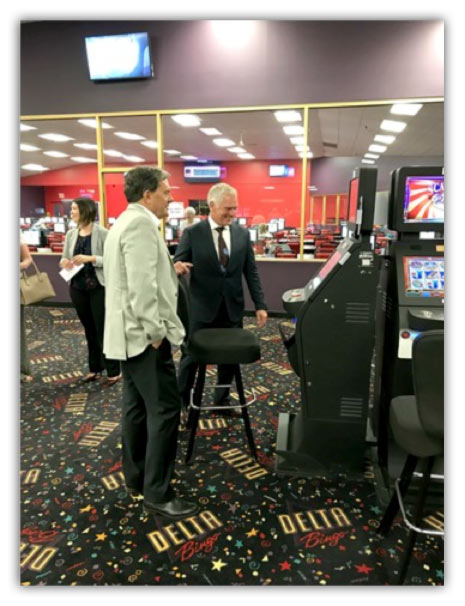 About Delta Bingo & Gaming
At Delta Bingo & Gaming, we create unique entertainment experiences that bring people together. Celebrating its 50th anniversary, Delta Bingo & Gaming is an industry leader with 18 locations in North America. By partnering with over 875 charities, Delta Bingo & Gaming has raised over $500 million for local charities active in communities across Ontario. For more information, please visit www.deltabingo.com
For further information, please contact:
Isabel McMurrich, Marketing & Communications Manager, Delta Bingo & Gaming
isabel@deltabingo.com 905-407-4771